If you're shopping for a laser marking system, purchasing equipment that comes with its own easy-to-use, flexible and customizable software can be a real game-changer. In this blog, we'll explain why this is the case, plus fill you in on some things you need to consider before you buy.
Much like the PC market, the market for laser marking systems has become highly commoditized with very little distinguishing the hardware of many brands. Much like PCs, the real differentiator in laser marking systems often lies with the software.
Most laser markers come with third-party software from China, with EZCAD being the most common. While this type of software can do a lot of things well, it also comes with some very real challenges.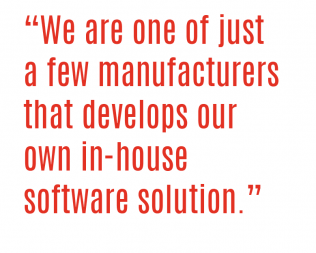 The most important issue is that the software's one-size-fits-all approach may not work well with your specific application. The software also cannot be customized.
RMI Laser is a U.S.-based company that builds and services our laser machines in Colorado. We're one of just a few manufacturers that develops our own in-house software solution. In fact, we've been doing it since our inception in 1998.
Our Symbol Writer Pro software allows you to customize your laser marking system to your precise needs. If you're a manufacturer with unique applications or new products rolling out routinely, this is incredibly valuable!
Laser hardware technologies tend to be very similar because providers just bolt together off-the-shelf hardware and use standard third-party software to run it. It's a simple business model that provides solutions that may prove 'good enough,' but is never truly ideal. The reason so few providers offer their own software is that it takes real expertise and substantial technology investment to develop it.
Below are some common laser marking issues that can easily be solved by working with RMI Laser's in-house laser software platform.
You can customize our software for specific needs
Seemingly simple functions can be incredibly complex to take on with standard-issue software. This is not the case with our Symbol Writer Pro laser software, which is incredibly flexible and easy to work with. Here are some examples of things our software allows you to do that would be nearly impossible with standard off-the-shelf software:
Accommodate multiple graphical file formats (like PDFs)
Implement different marking types into one process
Communicate with other automation environments
Match your workflow or operator preferences
You can work with your own interface
If you have in-house programming expertise, you might want to use a software development kit (SDK) to control your laser using your own interface application. This option does not exist with most standard software, but it's quite simple to take on with RMI Laser's Symbol Writer Pro software.
You can take on even the most complex applications
Symbol Writer Pro comes ready for a wide variety of custom applications for laser marking and takes only a short time to learn. We make it easy to:
Compile multiple files into unique PDFs for marking on each part
Select and position parts by part numbers or images
Scale PDFs to each part size and mark them with a rotary chuck
Pull up a job list, select a job and mark two sides in multiple areas with different graphics
Our laser software also allows you to take on more advanced applications like:
Creating web-to-print customization and GUI or tablet interfaces
Supporting multiple-part geometries using an Excel spreadsheet (without programmer support)
Marking products in custom sizes or scales without having an operator make adjustments
Auto-sizing text to fit within a defined marking area based on how many characters are typed
RMI Laser is committed to providing you with a complete laser marking solution for your needs. We invite you to see the many customizable features our laser software makes possible. Before you buy your next laser marking machine, please schedule a free demo of Symbol Writer Pro by filling out the form on the right side of this page.