Premium Fiber Laser Marker
High beam quality, small spot size and large lens are ideal for small components
Ideal for very thin metals and hard metals (Rockwell hardness > 50)
Etch or engrave beyond .001-inch depth
Engineered for maximum uptime, virtually maintenance-free
Economical option
Backed by world-class support and a convenient laser system loaner program to enable you to remain productive when your system needs repair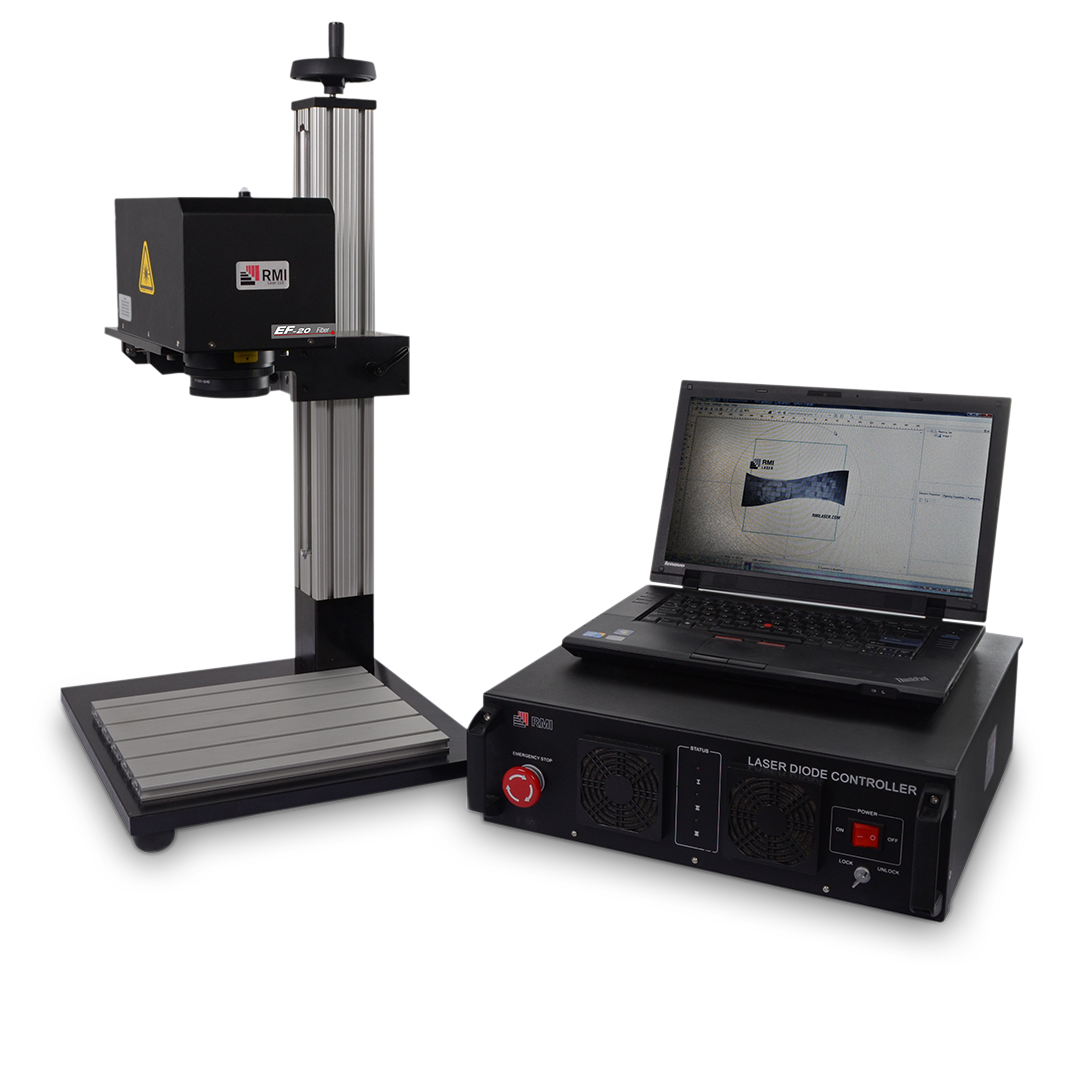 Premium Fiber Laser Details
RMI Laser's Premium Fiber Laser is a high-quality laser marking system that's ideal for a wide array of applications. It's powerful, versatile, dependable, easy to use and – with all we've packed into it – very reasonably priced!
The Premium Fiber Laser comes with best-in-class JPT Fiber Modules and an optional MOPA Laser for exceptional marking on many different types of materials. Available in either 20- or 30-watt power levels, it's the perfect all-in-one system for marking serial numbers, logos or special designs on most metals, plastics or ceramics.
The Premium Fiber Laser is ideal for deeper etching or engraving on harder metals or for producing extremely high-resolution marks with a high-powered system and a smaller spot size. Thanks to its larger lens options, high beam quality and small spot sizes, it's also perfect for batch marking smaller components or cutting very thin metals. The Premium Fiber Laser is virtually maintenance-free and is backed by RMI Laser's support team in Colorado.
Available with MOPA laser option
Best-in-Class JPT Fiber Modules
Available with 100 mm, 163 mm, 254 mm, 330 mm, or
420 mm F-Theta Lenses
20 & 30 Watt Models
Class I or Class IV Configurations
Plug and Play Rotary Chuck Adaptation
Contact us for information about premium fiber laser markers
* These fields are required.
EF-20

Specifications

Laser Source Built-in

Yb-doped Fiber Laser

Wavelength

1064 nm

Laser Source Output

20 W equivalent CW Power

Peak Power

0.8mJ

Pulse Width

200ns @ 1kHz - 600kHz

Lenses Available (focal length)

100, 163, 254, 330, 420 mm

Warranty

2 years

Weight

5 kg

11 lbs

L x W x H*

260 x 149 x 141 mm

10.24" x 5.87" x 5.55"

Operational Temp Range (maximum output parameters)

10° – 40°C

50 – 104°F

Operational Humidity Range (maximum output parameters)

80% non-condensing

Cooling System

Air-cooled

*Allow a minimum of 5 cm (2") of open space around the Marker Head and Controller for free air circulation. Additionally, ensure at least 10cm (4") of open space at the rear of the Controller and Marker Head for cable attachment and maintenance access
EF-30

Specifications

Laser Source Built-in

Yb-doped Fiber Laser

Wavelength

1064 nm

Laser Source Output

30 W equivalent CW Power

Peak Power

0.8mJ

Pulse Width

200ns @ 1kHz - 600kHz

Lenses Available (focal length)

100, 163, 254, 330, 420 mm

Warranty

2 years

Weight

5 kg

11 lbs

L x W x H*

260 x 149 x 141 mm

10.24" x 5.87" x 5.55"

Operational Temp Range (maximum output parameters)

10° – 40°C

50 – 104°F

Operational Humidity Range (maximum output parameters)

80% non-condensing

Cooling System

Air-cooled

*Allow a minimum of 5 cm (2") of open space around the Marker Head and Controller for free air circulation. Additionally, ensure at least 10cm (4") of open space at the rear of the Controller and Marker Head for cable attachment and maintenance access
Fiber Laser Controller

Specifications

Power Source

AC 100 – 240 V, 5 A, 50/60 Hz

Weight (with set of cables)

13 kg

29 lbs

L x W x H*

431 x 441 x 132 mm

16.95" x 17.35" x 5.21"

*Allow a minimum of 5 cm (2") of open space around the Marker Head and Controller for free air circulation. Additionally, ensure at least 10cm (4") of open space at the rear of the Controller and Marker Head for cable attachment and maintenance access
Premium Laser Marking Dimensions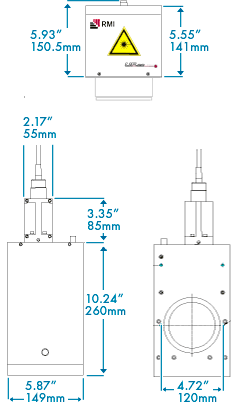 Fiber Laser Controller Dimensions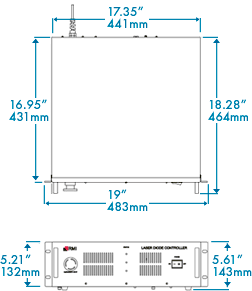 Other Laser Marking Systems
Premium Fiber Laser Marker
Ultra-compact Laser Marker
Heavy-duty Fiber Laser Marker