Surface marking without surface degradation
Highest marking speeds for maximum throughput
Marks variable part geometries (curved surfaces)
Smallest footprint YVO4 laser marker available
3-year complete system warranty
Specifically-tuned beam shape for optimal annealing and ablation
Uniform energy delivered across the spot size enables precise, high-contrast marking
Anneals metal without etching into the surface
Facilitates color change on plastics without foaming or melting
Enables one-layer-at-a-time ablation of coated metals (single-layer marking depth precision)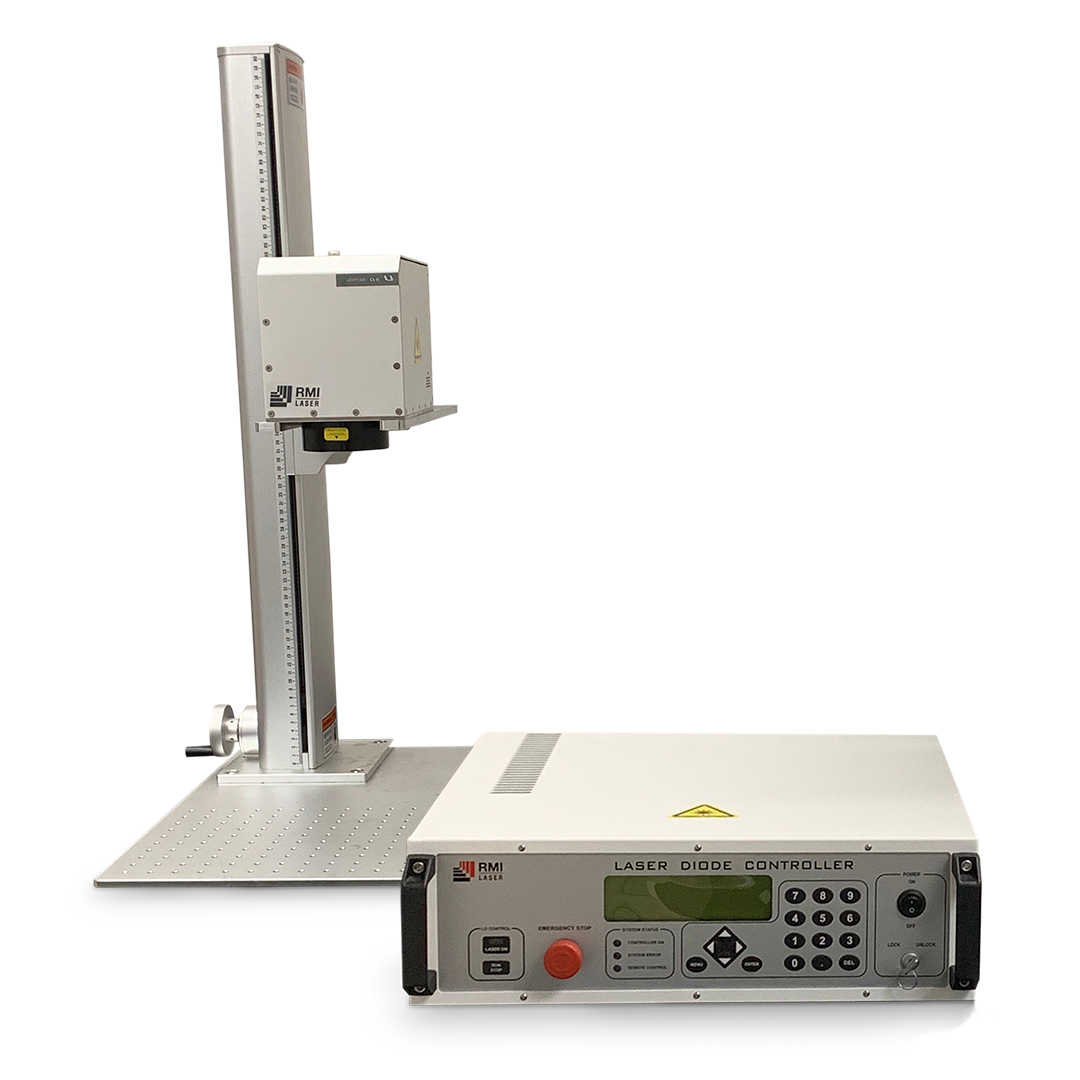 YVO4 Laser Marker Details
Our DPSS (Diode-pumped solid state) Lasers utilize Nd:YVO4 technologies, creating many advantages over other lasers. They can produce a precise mark without using large, external power supplies, which is energy-efficient. YVO4 lasers can achieve a smaller spot size and higher energy density, which is ideal for reflective surfaces. RMI Laser's YVO4 Laser Marker comes with the world's most compact marking head for easy integration into a variety of process flows and configurations, and an industry leading 3-year warranty and loaner program.
They are by far our most versatile laser marker machines because they can anneal metals, ablate coated metals, and color change or foam plastics all with a single laser system. If versatility is what you need, then this is the laser system for you.
The YVO4 Laser Marker has very short pulse duration, making them ideal for sensitive marking applications where direct part marking can cause surface degradation. Users can mark directly onto the parts without concern for surface damage, HAZ (heat-affected zones), structural degradation, recasting or stress risers.
The newest systems in the RMI Laser YVO4 Laser Marker series is the A-10. Expanding upon the technology and components from the current U-Serie, the A-10 has added application capabilities. The beam is specifically tuned to uniformly distribute energy making it optimal for annealing and ablating. This laser is strong enough to create dark marks on metals and is sensitive enough to get a color change on plastics without any foaming. The new laser systems have higher power and more stability than its predecessors along with having unmatched marking quality.
Available with 100 mm, 163 mm, 254 mm, 330 mm, or 420 mm F-Theta Lenses
10 Watt Models
Class I or Class IV Configurations
Plug and Play Rotary Chuck Adaptation
Custom Optics: Add a Waveplate or Change the Beam Expander
A-10

Specifications

Laser Source Built-in

Diode Pumped Nd:YVO4

Wavelength

1064 nm

Laser Source Output

10 W

Peak Power

≤ 75 kW

Pulse Width

~ 10 ns @ 10 kHz

Lenses Available (focal length)

100, 163, 254 mm

Warranty

3 years

Weight

5.8 kg

12.8 lbs

L x W x H*

229 x 142 x 163 mm

9.0" x 5.6" x 6.41"

Operational Temp Range (maximum output parameters)

10° – 40°C

50 – 104°F

Operational Humidity Range (maximum output parameters)

80% non-condensing

Cooling System

Thermoelectric / Air-cooled

*Allow a minimum of 5 cm (2") of open space around the Marker Head and Controller for free air circulation. Additionally, ensure at least 10cm (4") of open space at the rear of the Controller and Marker Head for cable attachment and maintenance access
Controller Specifications
YVO4 Laser Controller

Specifications

Power Source

AC 100 – 240 V, 5 A, 50/60 Hz

Weight (with set of cables)

13 kg

29 lbs

L x W x H*

455 x 445 x 135 mm

17.91" x 17.52" x 5.31"

*Allow a minimum of 5 cm (2") of open space around the Marker Head and Controller for free air circulation. Additionally, ensure at least 10cm (4") of open space at the rear of the Controller and Marker Head for cable attachment and maintenance access
Other Laser Marking Systems
Premium Fiber Laser Marker
Ultra-compact Laser Marker
Heavy-duty Fiber Laser Marker