RMI Laser offers a wide range of add-ons and accessories to ensure safe and convenient operation of your RMI Laser marking system.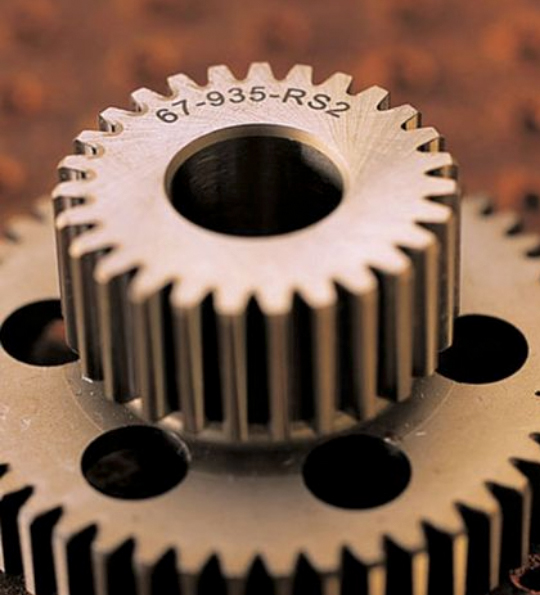 RMI Optional Equipment Selection
Heavy Lift Programmable Z Enclosure
This system is designed to laser mark large items. Using our software, the operator simply enters the part height and the Programmable Z scissor lift brings it to the precise height for laser marking. It can handle up to 500 pounds, and the shelf extends to ease loading and unloading. The laser marking head is on a light safe slide to make it easier to position the laser mark.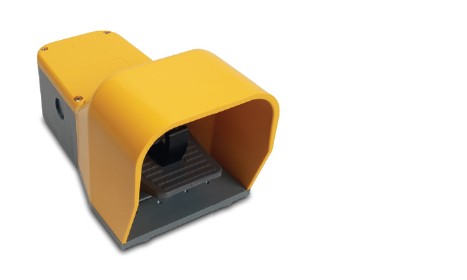 Foot switches that initiate laser marking leave operators hands free to load and unload parts. A Foot Switch should be used with Class 1 Eye Safe Enclosures.
Safety is very important at RMI Laser. Light curtains are an effective tool for sensing the presence of an operators' hands/arms and preventing automation from harming them.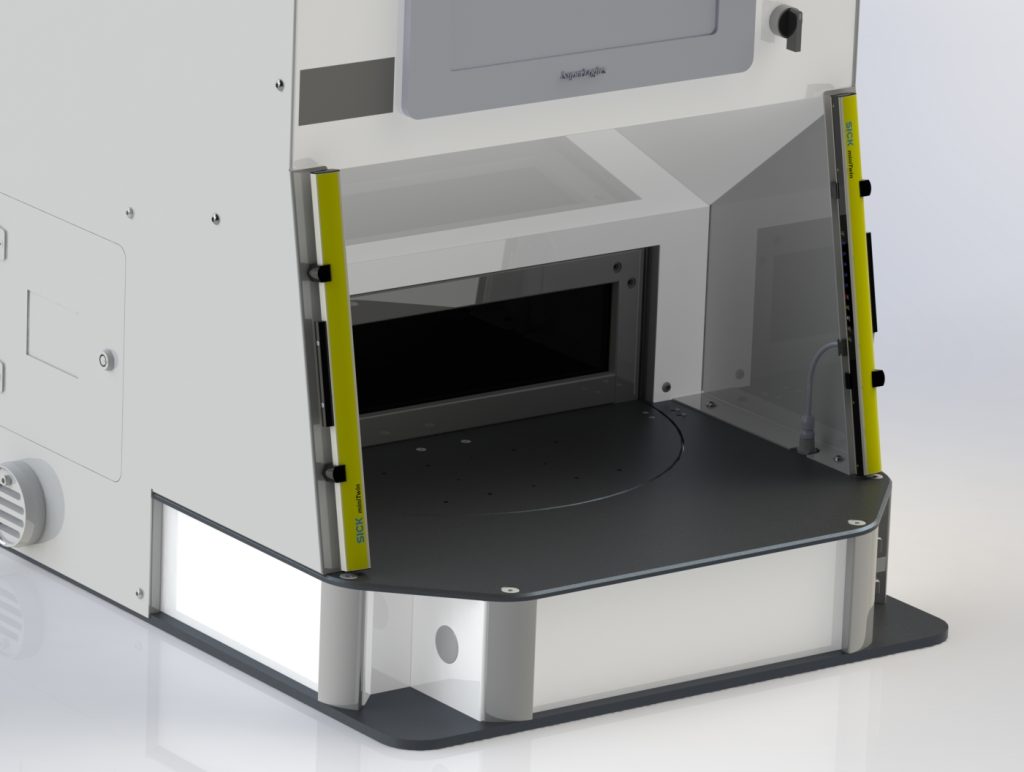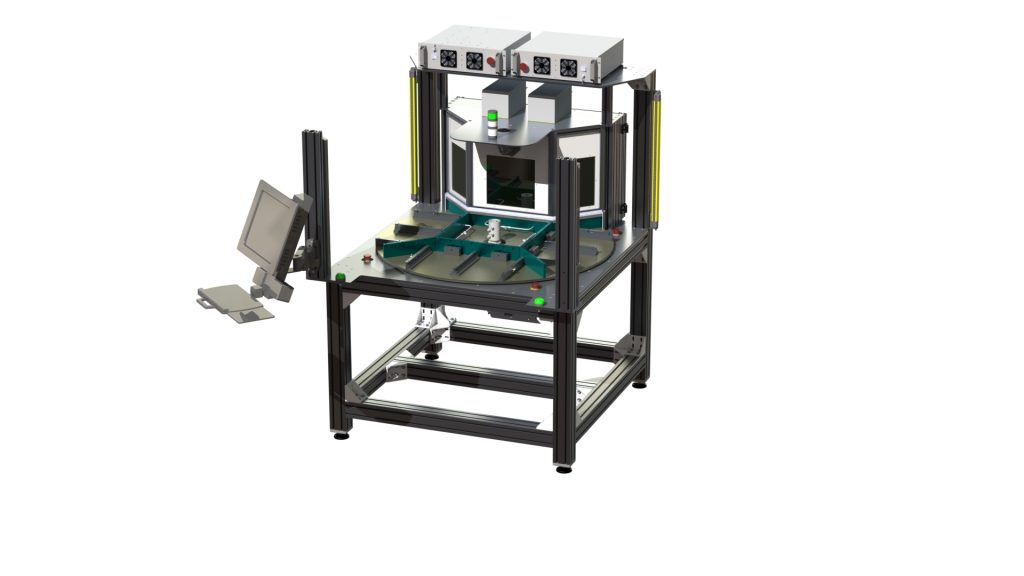 Here is an example of an indexing turntable being used with two RMI Laser marking systems for high-volume production. The lasers are enclosed, and the turntable serves as a loading station before marking and an unloading station after marking. Light curtains protect operators from being injured by any table movements. Our custom software allows you to control both laser marking systems and helps facilitate job batching.
Our laser marking systems come with a programmable Z-axis motion that assures your parts are at the correct working distance from the laser. We also offer programmable X & Y tables that are handy for making multiple marks on large objects or marking many objects at once. Plus you can integrate a Programmable Z-scissors lift that can handle up to 500 pounds.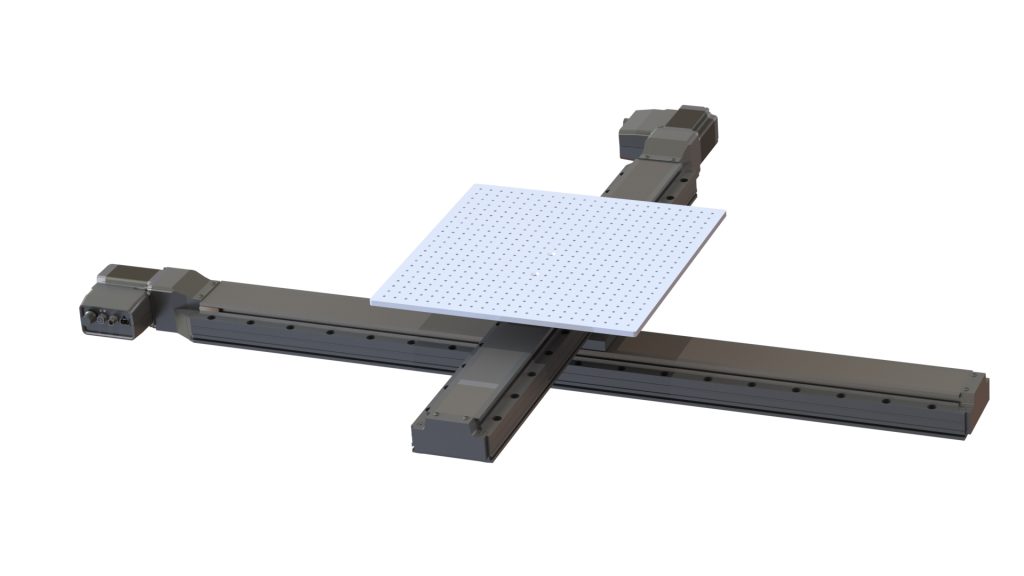 If your objective is increasing throughput, one of the first things we look at is work holding. This allows the operator to skip the alignment step and quickly load and unload parts.
RMI Laser engineers routinely design fixtures and nests to precisely locate parts underneath lasers. We can machine these from metals, Delrin or acetal. We can also 3D print them.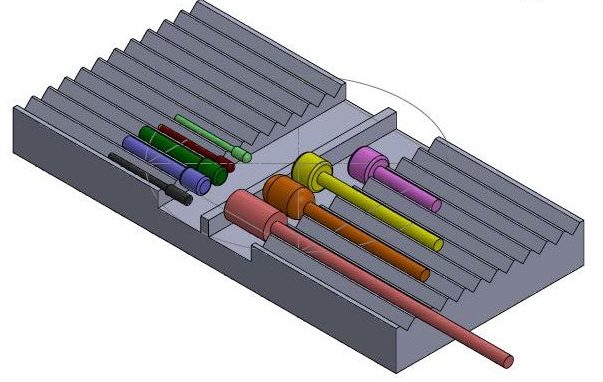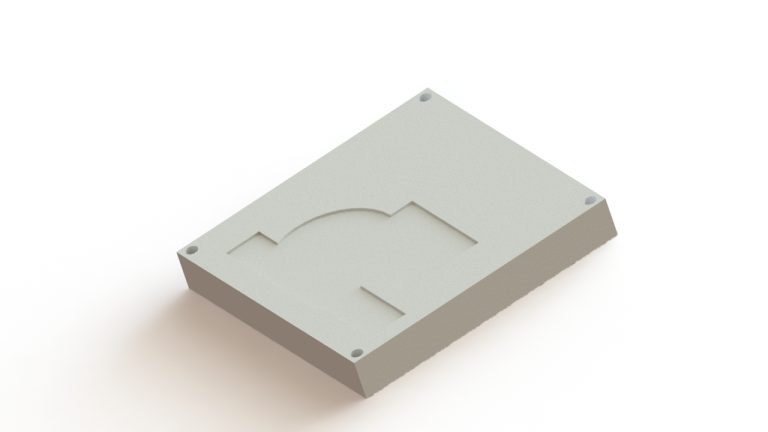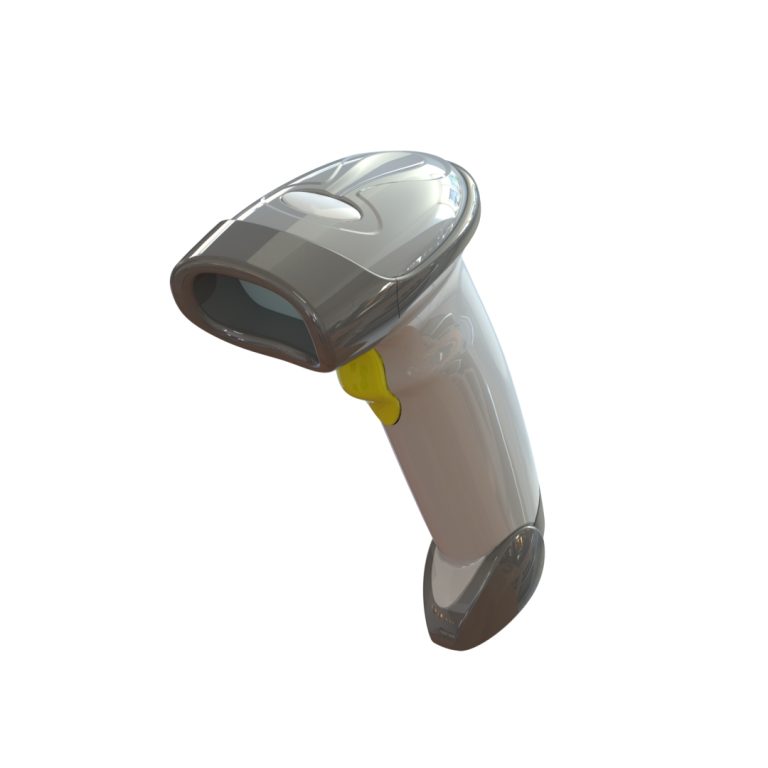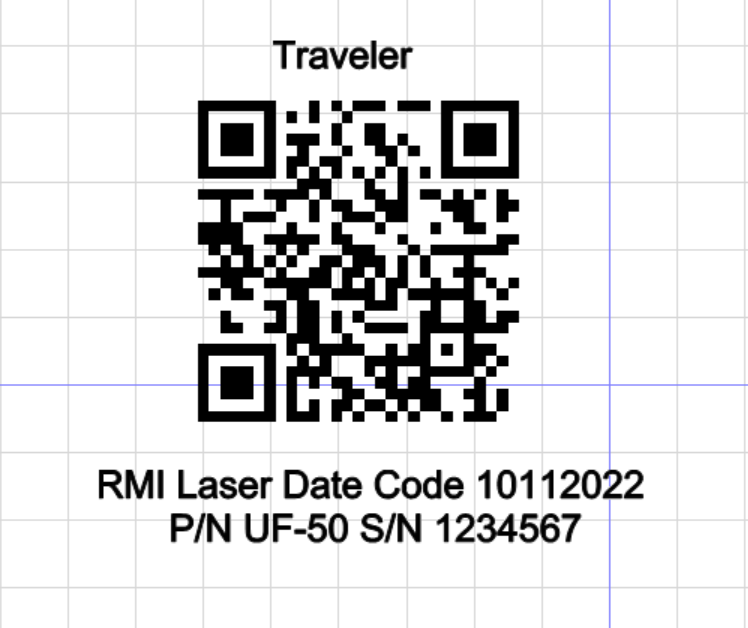 Do parts on your production line have a traveler? If so, we can integrate a barcode scanner so that when your operator scans the traveler, our software will put the data encoded in the barcode and format it into the laser mark you require. Travelers save time and eliminate data entry errors.
Machine and Computer Vision
We're experienced in building systems with either machine or computer vision.
Machine Vision: Uses cameras that assist the operator with aligning parts with an on-screen image.
Computer Vision: Uses algorithms to process and interpret the image before instructing the laser how to mark the part.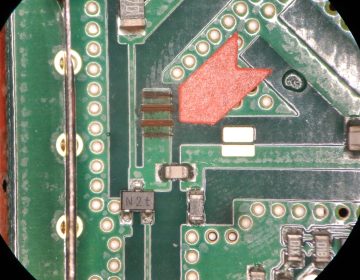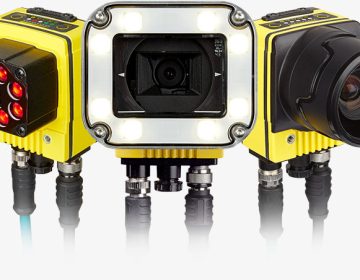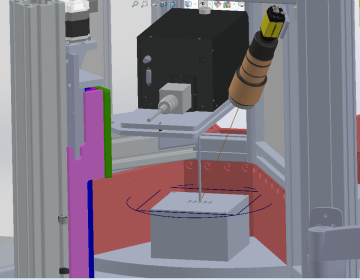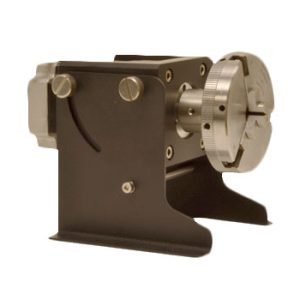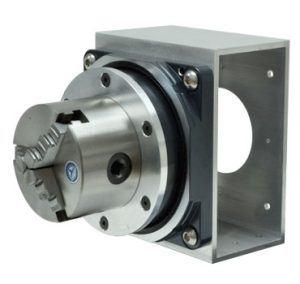 Rotary Chuck (Lite and Heavy-Duty)
Lite Overview and Configurations
Our rotary chuck lite assembly is a micro-stepper, driver-indexing device for radial marking applications such as rings, bearings or valve fittings. The tiltable chuck allows for marking on the inside or outside diameters of working pieces. The three-jaw chuck design allows the work piece to be manually fixed from the inside or the outside diameter.
The RC Lite is the perfect accessory for users who need to take on circumferential marking. Simply connect the chuck to the power supply box and you will be ready in minutes. The unit is controlled by our Symbol Writer Pro software package. No additional software is required.
Mounted directly to T-Slot Base or to Heavy Duty Lab Jack
Heavy-Duty Overview and Configurations
RMI Laser's heavy duty rotary chuck assembly is an indexing device for circumferential marking applications such as rings, tubing or bearings. The RC HD is driven by a rotary actuator that provides a through-hole for longer parts to be loaded and unloaded from the back.
With a variety of chuck options, parts of varying weights and diameters can be easily marked and fixtured on the inside or outside.
3-Jaw Chuck (standard with unit)

6-Jaw Chuck (for larger or heavier parts)

Pneumatic Chuck (for high-volume applications)

Collet Chuck (for smaller diameter parts)
Having different lenses allows you to adjust the size of your marking area if you have more than one. The best lens for your project depends on your marking application and the workstation configuration. Please note that our 532 nm lasers have fewer options than the 1064 nm lasers. Also, larger lenses (254 mm, 330 mm or 420 mm) require higher wattage lasers.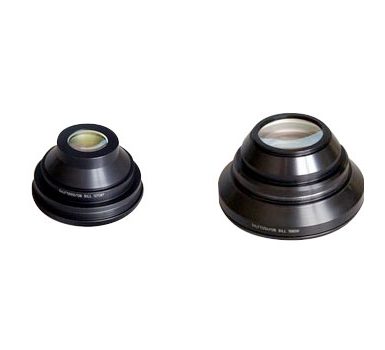 | F-Theta Lens | Square Marking Area | Circular Marking Area | Average Spot Size |
| --- | --- | --- | --- |
| 100 mm | 60 x 60 mm (2.4" x 2.4") | 85 mm (3.4") Diameter | 30 µm |
| 160 mm (For use with UM-2 Micro Laser only) | 125 mm x 125 mm (4.92" x 4.92") | 177 mm (6.97") Diameter | 80 µm |
| 163 mm | 100 x 100 mm (4" x 4") | 141 mm (5.6") Diameter | 49 µm |
| 165 mm | 105 mm x 105 mm (4.13" x 4.13") | 188.5 mm (7.42") Diameter | 30 µm |
| 254 mm | 150 x 150 mm (6" x 6") | 212 mm (8.3") Diameter | 76 µm |
| 330 mm | 200 x 200 mm (7.9" x 7.9") | 283 mm (11") Diameter | 99 µm |
| 420 mm | 254 x 254 mm (10" x 10") | 358 mm (14") Diameter | 126 µm |
Contact us if you have additional questions about ordering another F-Theta Lens.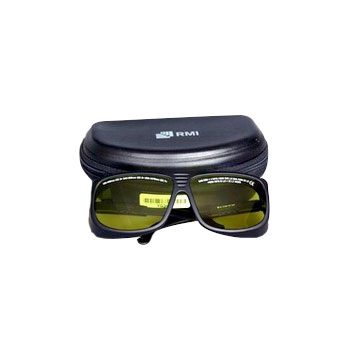 Certified goggles ensure operator safety. Two pairs are included with every system.