While wading through the many laser marking systems currently on the market, it can be a challenge to determine which systems are designed, manufactured and supported in the USA versus those that are actually imported and simply rebranded in the USA.
In this blog, we will define what 'Made in USA' really means, why you should strongly consider purchasing products manufactured in the USA, and of course, the practical implications of such purchasing decisions.
What does 'Made in USA' really mean?
According to the FTC, 'all or virtually all' of the product must be assembled or manufactured in the USA. With such a vague and subjective definition, it is no wonder this has created a lot of confusion when applied to the laser industry. Many companies will say 'Made in USA' but in reality, only the last-step assembly or relabeling is done in America while the full systems are actually coming from one of a few mass producers in China. Upon closer inspection, most of these systems will look similar and run versions of licensed or counterfeit EZCad software.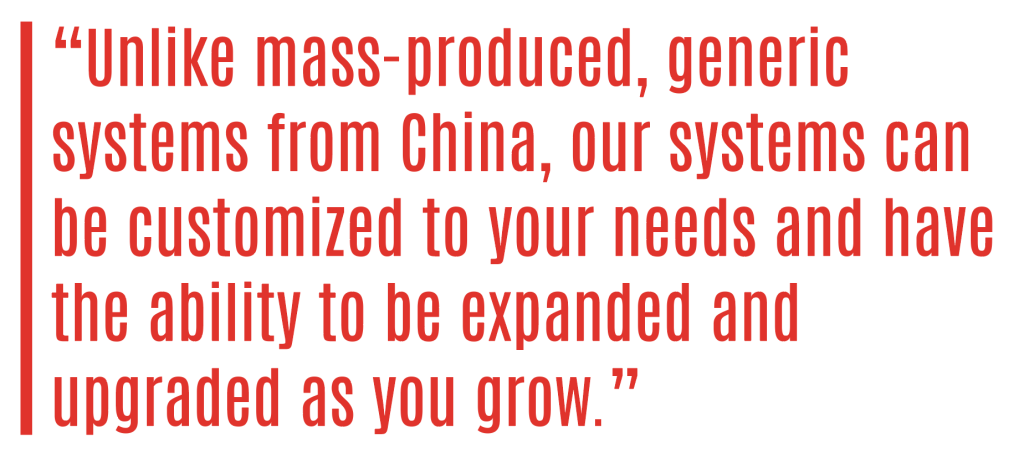 Here are some steps you can take to determine if the system you're looking at is actually made in China.
1) Ask the salesperson:
Is the laser marking system a rebranded system?
What specific software is used to operate the system? Is this actually EZCad software with a different name?
If we need to make modifications to the way we laser mark our products to accommodate our workflow or special applications, can your hardware or software be customized to support this?
2) Be cautious of low-cost models. Systems sold between $3k-$13k are often repackaged or relabeled Chinese systems. These low-end systems tend to be rife with quality and performance issues and provide little to no customer support. Be especially wary of any systems being sold on eBay!
3) Make sure that the product you are considering has been certified by regulatory authorities for safety and compliance. Many imported products will not be FDA-approved.
What are the key benefits of buying a laser marking system that's 'Made in USA'?
There are both practical and philosophical benefits to purchasing a truly 'Made in USA' laser marking system.
As a company that actually makes our laser marking systems in the USA, we have a lot to say about this topic at RMI Laser. Our knowledgeable, US-based team has over 20 years of experience designing, manufacturing and supporting in-house laser systems and solutions. Unlike mass-produced, generic systems from China, our systems can be customized to your needs and have the ability to be expanded and upgraded as you grow. RMI is unique in our ability to:
Match your application or marking challenge with customizable accessories, enclosures and laser types with our flexible, 'a-la-carte approach to hardware
Customize our in-house software platform to meet your specific needs
Provide a leading warranty and quality repair program
Of course, you can feel good about buying a FULLY American Made product that supports USA manufacturing, engineering and production. While we recognize that no one can run a business by making decisions that 'feel good,' you CAN justify making a feel-good decision when the value and benefits are there to back it up!