Ultra-compact Laser Marker
Smallest Direct Metal Marking Laser
Most Versatile Direct Metal Marking Laser
True Entry Level/Starter Level Laser
RMI Laser Exclusive, a One-of-a-Kind Design
Ideal for Consumer Personalization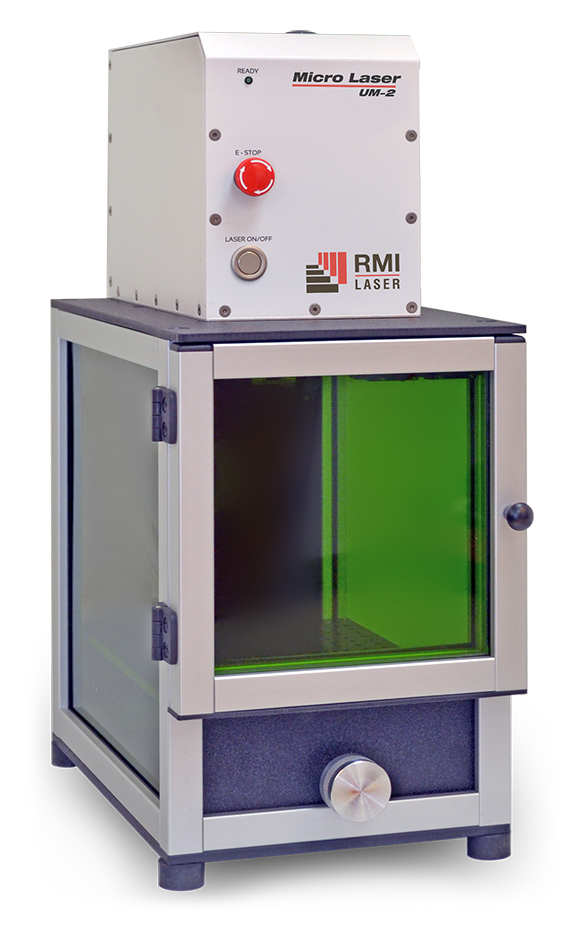 Ultra-compact Laser Details
The Ultra-compact Laser (also known as the Micro Laser or UM-2) is a full-featured, high performance, mini-laser marking machine engraving machine that produces high quality laser engraving at a low investment cost. This is an all-in-one system that can be placed on a table top and the protective glass enclosure option allows easy visibility of marking. It is perfect for everyday marking and engraving and can be easily transported to trade shows.
It is ideal for small scale production of high quality marks on small metal pieces, but it can be used in higher volume applications depending on the marking type and the substrate. It is the world's most compact direct metal marking laser and its performance is totally unmatched in the industry today.
The Ultra-compact Laser is a truly versatile laser in an economical and compact package. It is able to mark multiple substrates while being compact enough to carry-on to a plane.
This UM-2 mini laser gives us an advantage over our competition, let it do the same for you. Available in 1 watt configuration, the UM-2 also has a complete 2-year warranty and our USA-based customer service.
Available with 100 mm & 160 mm F-Theta Lenses
Class I or Class IV Configurations
Plug and Play Rotary Chuck Adaptation
UM-2

Specifications

Laser Source Built-in

Built-In, Diode Pumped Nd:YAG

Wavelength

1064 nm

Laser Source Output

1 W @ 5 kHz

Peak Power

Up to 30 kW

Q-switch Pulse Width

~8 ns @ 5 kHz

Lenses Available (focal length)

100, 160 mm

Warranty

1 year

Weight

5 kg

11 lbs

L x W x H*

300 x 131 x 168 mm

11.8" x 5.2" x 6.6"

Operational Temp Range (maximum output parameters)

10° – 40°C

50 – 104°F

Operational Humidity Range (maximum output parameters)

85% non-condensing

Cooling System

Air-cooled

*Allow a minimum of 5 cm (2") of open space around the Marker Head and Controller for free air circulation.
Other Laser Marking Systems
Premium Fiber Laser Marker
Ultra-compact Laser Marker
Heavy-duty Fiber Laser Marker