Side crank handle
Drilled and tapped base for easy fixturing
Designed for large or long part marking
External focusing diode for easy focusing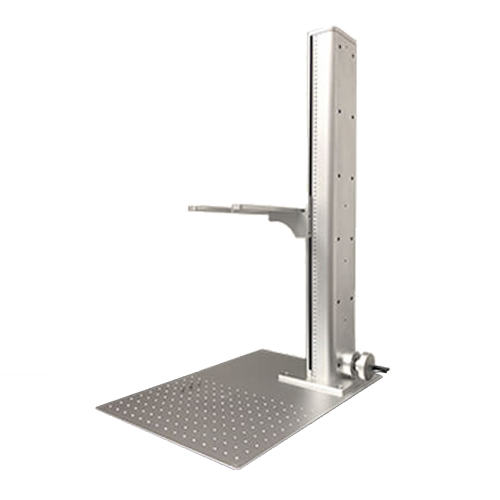 Because not everybody is suited for a Class I workstation or has parts that fit into a Class I workstation, RMI Laser has developed Class IV Stands for use with our systems. This Class IV Z-Axis Stand comes with a side crank adjustment for easy focusing and setup. The Class IV stands are an economical alternative, designed specifically for larger or longer part marking.
400mm x 500mm base plate
Vertical aluminum 800mm column
Programmable Z-Axis

Rotary Chuck Adaptation
Breadboard Adaptation
| Lasers | Z-Axis Stand |
| --- | --- |
| U-5G | √ |
| EF-20 | √ |
| EF-30 | √ |
| UF-20 | √ |
| UF-30 | √ |
| UF-50 | √ |
| Lenses | Z-Axis Stand |
| --- | --- |
| 100mm* | √ |
| 163mm* | √ |
| 165mm* | √ |
| 254mm* | √ |
| 330mm* | √** |
| 420mm* | √** |
| Breadboards | Z-Axis Stand |
| --- | --- |
| 6x6 | √ |
| 9x9 | √ |
| 12x12 | √ |
Notes: * Dependent on part height, ** May require an extension