Key Benefits:
· Secure operation independent of networks – no license server to communicate with
· Laser marking without HAZ (Heat Affected Zones)
· SDK may be used to interface with ERP and Material Tracking applications
· Wide range of materials marked using the same user friendly software
· Broad range of workstations, stands and work holding solutions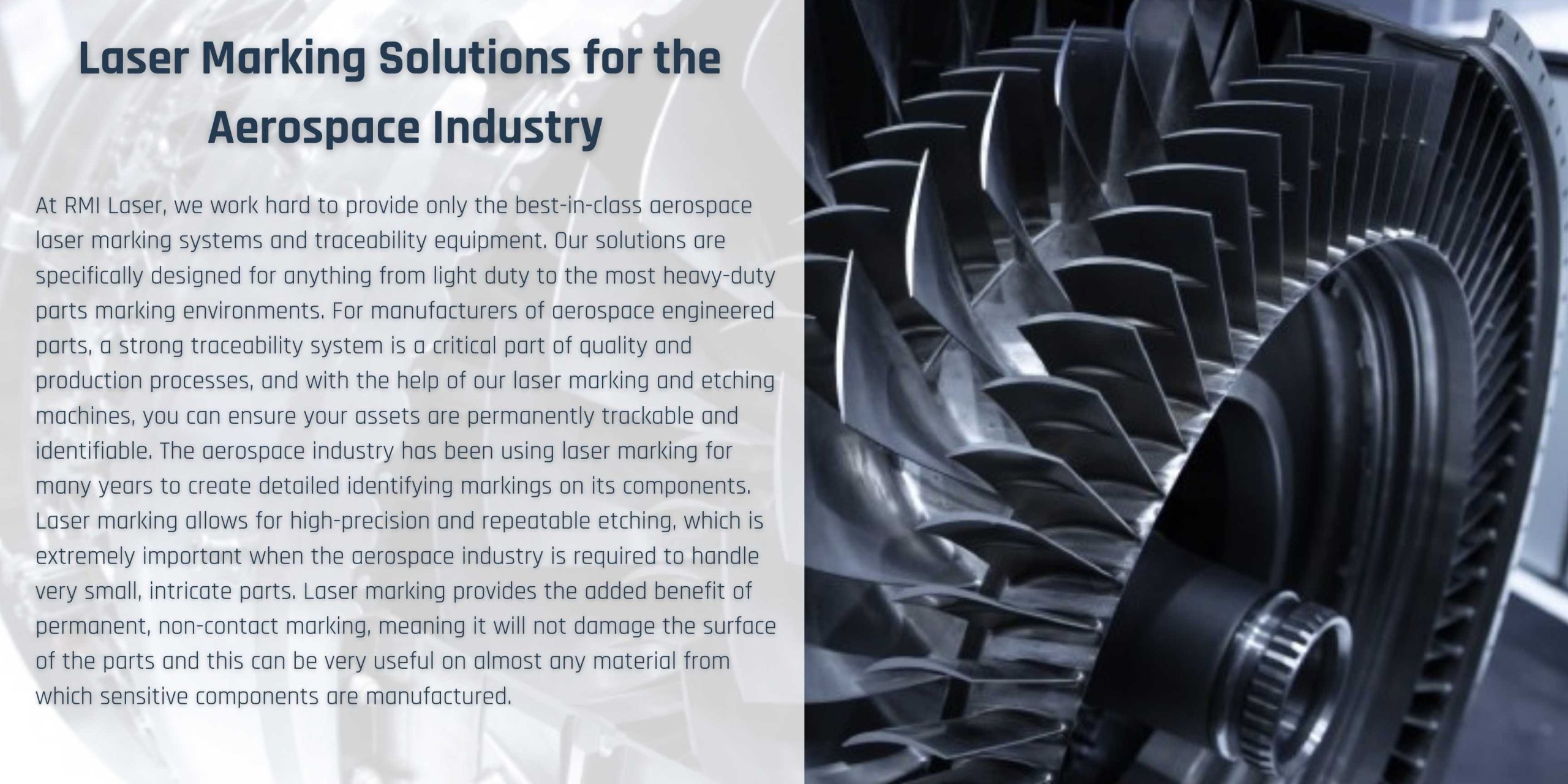 Addressing unique part identification & traceability challenges arising in the Aerospace industry
Aerospace parts marking and coding have extensive quality monitoring standards that are required for the traceability of parts throughout their lifespan. Since the parts are exposed to the most strenuous levels of heat and friction, laser marking must therefore be permanently legible – without compromising or weakening the material from which they are fabricated. Each unique product must meet and exceed rigorous testing and regulatory guidelines. RMI Laser offers unmatched experience and expertise in precision laser marking systems and solutions for the aerospace parts marking industry. While we take pride in offering best-in-class standard laser marking systems for the aerospace industry, we also specialize in tailored and flexible laser marking solutions for any workflow environment including custom software, hardware, accessories and fixturing. 
Also, laser etching (a related process technology to laser marking) is faster and more cost-effective than manual etching, and it can be used to create highly durable markings that won't wear off over time even under extreme friction or heating conditions. This makes laser etching a powerful tool for the aerospace industry, allowing for increased efficiency and accuracy in the production of aircraft components.
RMI provides laser marking solutions for many different aspects across the aerospace production line – including part identification, electrical equipment coding, serialization as well as tool tracking. Because RMI's laser marking product line is designed to be powerful, flexible and easy to use, clients have a wide selection of industry-leading laser marking systems and solution available to address any precision part identification and traceability requirement. With our modular a-la-carte approach, each laser marking setup can be adapted to the customer's workspace or manufacturing line. The flexibility of RMI's laser marking systems truly help to fulfil the needs of the aerospace industry's premier companies.
When you work with RMI Laser, you have access to our unrivalled in-house engineering expertise and services. We will engage with you from the beginning of the project there all the way to the final installation, training and integration of your selected system, as well as provide you with ongoing technical consultation and support.
To learn more about how RMI Laser's range of aerospace laser marking equipment can deliver real benefits for your organization, please call us at (303) 664-9000 or email us at sales@rmilaser.net. For additional information regarding our most popular aerospace laser marking solutions, please see below for detailed technical specifications.